Aberdeen council HQ sale 'could fund improvements'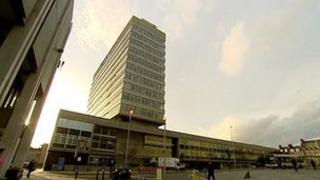 Proceeds from the sale of Aberdeen City Council's former headquarters could be used to pay for some city centre improvements, it has been announced.
More than 1,000 council staff vacated St Nicholas House for the newly-refurbished Marischal College building.
The 14-storey former HQ was erected in 1968 and is being demolished.
Labour - senior partners on the ruling coalition - said it was also exploring using Common Good Fund money to fund improvements.
Councillors voted to scrap the £140m City Garden Project plan to transform the historic Union Terrace Gardens last week.