Aberdeen oil and gas skills summit planned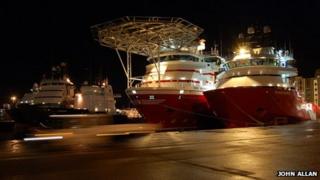 Senior figures from the oil and gas industry are to tackle a potential skills shortage in the industry.
The first-ever skills summit backed by Oil and Gas UK has been scheduled for Aberdeen on 19 September.
The industry body's 2012 demographics report highlighted to the need to attract more skilled and experienced 'mid-career' workers.
A study by accountants PwC said Aberdeen needs 120,000 recruits if it is to realise its full potential.
Dr Alix Thom, UK Oil and Gas employment and skills issues manager, said: "We've known in the industry for some time that there exists a 'skills gap' - where the demand for experienced skilled workers has outstripped the supply.
"Similarly, we know that women are very much under-represented, particularly but not only, in the offshore workforce and they constitute a significant untapped talent pool.
"The time has come to tackle this issue head-on if we are to guarantee a long-term future for the oil and gas industry in the UK."
Skills threat
Accountants PwC have called for an Energy Academy to ensure that suitably-skilled people are available to work for the industry.
Mark Higginson, senior partner at PwC in Aberdeen, said: "The supply of appropriately skilled labour continues to be the greatest threat to Aberdeen's ability to become a global energy centre of excellence."
Oil and Gas UK hope their summit will address the overall concerns of their members.
Dr Thom added: "There are other areas where we need to explore new ideas and agree the best way forward, for example in filling positions in disciplines such as design engineering and project management, which are proving the most difficult to fill.
"We also hope to be able to identify the obstacles which are hindering bringing in new entrants to the industry, find ways to accommodate more apprentices and ensure training opportunities are widely available."