Egyptian Gayer-Anderson cat on display in Shetland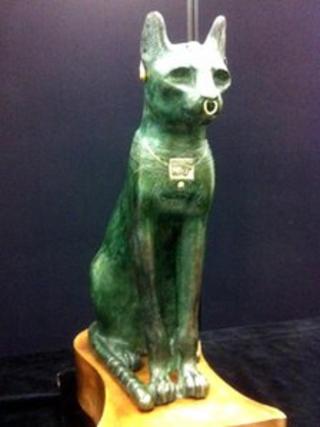 One of the most popular artefacts in the British Museum in London has gone on display in Shetland.
The Egyptian Gayer is a life-sized bronze statue, crafted about 2,500 years ago.
The famous cat has its tail wrapped around its feet and has golden rings in its ears and nose.
The statue went on display from Saturday at the Shetland Museum and Archives, where it will stay for two months.
It is part of a programme by the London museum to lend its artefacts around the UK.
Curator of collections at Shetland Museum, Dr Ian Tait, said it was great for the area to get a loan of such a popular artefact.
This sculpture is known as the Gayer-Anderson cat, after its donor to The British Museum.
It is a representation of the goddess Bastet.
It became very popular in the Late Period (661-332 BC) to bury mummies of cats in special cemeteries as a sign of devotion to the goddess.