'Fresh hope' for future of Tarves GP surgery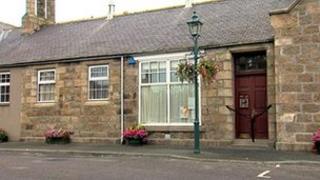 Campaigners opposing the closure of a GP surgery in an Aberdeenshire village say they have fresh hope it could reopen.
NHS Grampian has approved a plan to allow Haddo Medical Group to resume dispensing rights within its practice area, with the exception of Tarves.
Campaigners said it was a significant step towards reopening that practice.
The campaigners announced a plan to create a community-run pharmacy in Pitmedden.
An NHS Grampian spokesperson said: "The Grampian NHS board took part in a thorough and detailed debate on this topic, which included representations from the local community.
"Following this the board took a vote on the matter. Members voted 11-8 in favour of the recommendation, with one abstention.
"The recommendation is that the Haddo Medical Group should continue to dispense NHS prescriptions for their practice population in all areas except that covered by the Tarves neighbourhood."
Campaigner Tamsin Morris said: "If a commercial pharmacy opens in Pitmedden, all the income will go into a private company and the profits may well go out of the area.
"The only way we can avoid that is to open a pharmacy ourselves, owned by the community and leasing space within the Pitmedden surgery.
"Then patients have easy access to their medicines, the dispensing income stays in the community and we can put all the profits towards providing health care services in the local area.
"That'll include funding the surgery in Tarves and ultimately we hope to expand the range of services that can be offered to patients."
The decision to take away pharmacy dispensing rights from the Tarves surgery led to it being closed down in September.
Haddo Medical Group also initially lost dispensing rights in Pitmedden.