Stonehaven residents told flood scheme 'may take up to four years'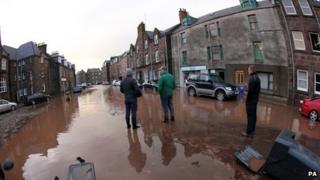 It could be up to four years before the Stonehaven has an effective flood alleviation scheme, according to the local council.
About 400 residents, many affected by severe flooding in the town two days before Christmas, attended a public meeting on Tuesday night.
Dozens of homes were evacuated, and properties damaged, after the River Carron burst its banks on 23 December.
Aberdeenshire Council said it is working on a flood alleviation scheme.
However, senior officials told residents gathered for the meeting at Mackie Academy it could take up to four years to complete, at an estimated cost of £6m.
Residents also heard from representatives from the Scottish Environment Protection Agency (Sepa).