Appeal over elderly cat with half a tongue found in Aberdeen snow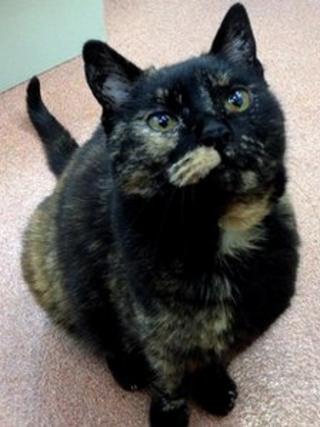 The owner of an elderly cat with half a tongue found struggling in snow in Aberdeen is being sought.
The female cat, thought to be 16, was found in the Whitehouse Street area on Friday.
The Scottish SPCA was called out and found the cat - which has been named Brownie - was weak and dehydrated.
Animal Rescue Officer Amanda Clark said: "We think she may have been struggling outdoors on her own for a few days before being found."
She added: "She's an affectionate, friendly cat who has been well fed and cared for up until now, so we'd hope that she has an owner somewhere who is missing her.
"Although she was wearing a collar, there was no identity tag and she isn't micro-chipped, so we're appealing to anyone who recognises her to come forward.
"We'd be delighted to reunite Brownie with her owner, but if no-one claims her then we will find her a loving new home."
Brownie is being cared for at the Scottish SPCA's Aberdeenshire animal rescue and rehoming centre at Drumoak.