Plans unveiled for Greyfriars John Knox Church in Aberdeen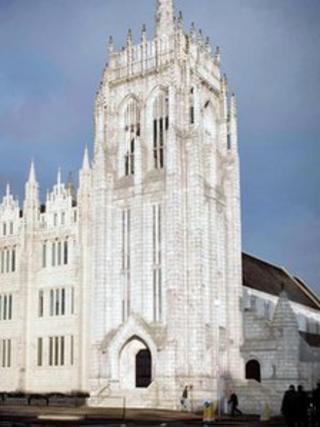 Plans to transform a historic granite Aberdeen city centre church into an office building have been unveiled.
Developers have agreed to buy Greyfriars John Knox Church - next to the council's Marischal headquarters, on the corner of Broad Street and Queen Street - from the Church of Scotland.
Oil and gas consultancy Optimus said it wants the church as its new headquarters.
Plans have been lodged with Aberdeen City Council.
The proposed design features two steel and glass structures built within the interior of the church.
It would create three storeys of open-plan office space, leaving the original building untouched.
'Very sympathetic'
The aisle, gothic stone piers, arches and windows, including the main stained glass window, would all be retained.
Optimus director Ian Bell said: "The development plans for Greyfriars Kirk are very sympathetic to the iconic building.
"Essentially, it will involve erecting a free-standing steel and glass structure inside the building, supporting two floors of open-plan office accommodation plus the existing ground floor.
"We would be proud to have it as our international HQ if all the planning hurdles can be cleared and we can secure a long-term lease at acceptable terms.
"We're working closely with all parties to make sure it becomes a reality."
A spokesman for George Douglas Architects, the architect behind the design, said: "A new commercial use is required for the building to justify the considerable expenditure which is urgently required to repair it back to its original condition and to stop further deterioration."
The Church of Scotland told the BBC Scotland news website missives had been concluded.