Widow complains to NHS Grampian over husband's A&E trolley wait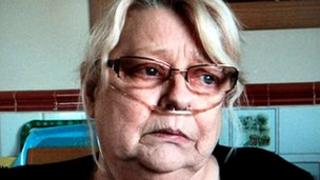 An Aberdeenshire widow has complained to NHS Grampian after claiming her sick husband was left on a trolley in accident and emergency for 11 hours waiting for a bed to become available.
William Convery, of Turriff, died at Aberdeen Royal Infirmary last November.
His wife Sandra said he died shortly after enduring his long wait.
Mrs Convery told BBC Scotland: "He was in quite a lot of pain. I just don't understand it. Why was he left lying so long?"
'Difficult time'
She added: "I am not looking for money, this is trying to stop it happening to somebody else."
An NHS Grampian spokesperson said: "The circumstances of Mr Convery's admission to hospital will be thoroughly investigated by senior clinical staff.
"We will offer to meet Mrs Convery to discuss the findings in detail.
"We are aware this must be a very difficult time for Mrs Convery and will aim to complete the investigation as speedily as possible."