Return of snow causes road delays in Aberdeen and Grampian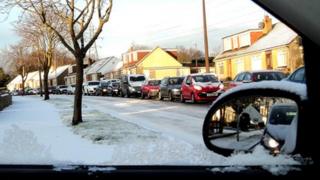 The return of snow and ice has again caused rush-hour delays in Aberdeen and elsewhere in Grampian.
Motorists in Aberdeen, and those trying to drive into the city, faced long tailbacks.
A spate of minor collisions added to the delays, although no serious injuries were reported.
Grampian police said many roads and pavements were very icy, with some roads closed, and urged motorists and pedestrians to take care.
An Aberdeen City Council spokesperson said: "The air temperature is rising, but road surface temperatures remain well below zero, which means that untreated surfaces remain frozen.
"We are doing all we can to treat surfaces across the city. Members of the public are reminded that the grit in grit bins is available for all to use.
"In periods of bad weather, including heavy rain, ice and snow, we often see an increased number of vehicles on the road and motorists quite rightly reducing their speed in accordance with the conditions.
"This increases journey time and reduces the capacity of the roads network, which means that queues are longer.
"Thank you to those motorists who reduced their speed and drove carefully in the icy conditions."
To access more information from your mobile, visit the BBC Weather and BBC Travel News sites.
The enhanced content on this page requires Javascript and Flash Player 9
Map Key
Land
Cloud
Lakes, Rivers & Sea
Fog
Light
Heavy
Frost
Light
Heavy
Pressure Fronts
Cold
Warm
Occluded
Rain
Light
Heavy
Extreme
Snow
Light
Heavy
Temperature tab only
Temperature (°C)
More details from BBC Weather