Bervie Braes: Re-opening of Stonehaven road 'worth up to £9m a year'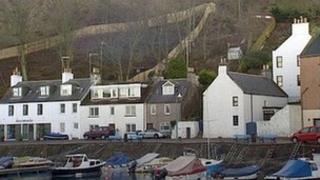 The re-opening of the Bervie Braes in Stonehaven could be worth up to £9m a year to the area, a report has claimed.
The road was closed due to landslips in 2010, when dozens of households were evacuated following heavy rainfall.
An economic impact assessment commissioned by the Stonehaven Town Partnership (STP) has said re-opening the road to light vehicles could be worth millions of pounds each year.
Aberdeenshire councillors are set to decide what to do next.
Douglas Samways, chair of the STP, said: "Many in Stonehaven and the surrounding area, especially those local businesses which rely on tourism, believe that the closure of the Bervie Braes road is having a detrimental effect.
"We felt that the time was right to see if this was in fact the case as we knew the council was considering the issue again.
"We would contend that the economic impact assessment we have commissioned demonstrates that, as a result of the road being closed, the local economy is losing out to the tune of £9m a year."
'Safety our priority'
Aberdeenshire Council's director of infrastructure services, Stephen Archer, said: "We are obviously aware that closure of this road has had an impact on the town of Stonehaven but safety has to be our top priority.
"Re-introducing light traffic to the Bervie Braes was discussed by councillors at the policy and resources committee in November and they agreed that it required further investigation.
"It was not possible to discuss the issue at this round of committee meetings due to all the evidence not being available. It will be discussed by councillors in March."