Card skimming 'device' warning over Elgin cash machine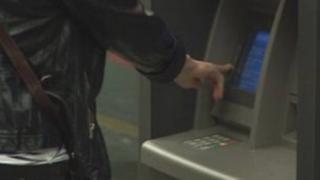 Grampian Police have warned the public to be vigilant after a suspected card skimming device was found on a cash machine in the Moray area.
The device was found at the Tesco store on Blackfriars Road on Friday morning.
Police said the equipment could be used to fraudulently obtain the card details of anyone using a cash point.
They have asked anyone who used the Tesco ATM on Friday to check their account and report any fraudulent activity.
Other ATM users in the area have been advised to be vigilant when using banking facilities.
Check bank statements
Earlier this month, a skimming device was found attached to a cash machine in Aviemore.
Police removed the device from the Bank of Scotland cash point in Grampian Road.
A Grampian Police spokesman said: "We'd encourage those who use ATMs to carry on as normal but to be particularly mindful of skimming devices and to be extremely cautious if they notice anything suspicious about the machine.
"You can protect yourself from these types of scams by paying attention to your statements and questioning any unauthorised transactions with your bank or card supplier.
"I would urge people to always check their statements and report any unexplained transaction to their bank in the first instance."