Shetland Islands Council: £12m budget cut approved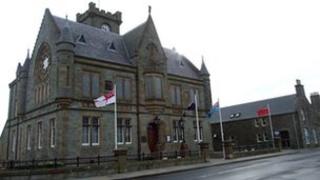 Shetland Islands Council is to cut its budget by almost £12.5m next year.
A freeze in council tax is in line with an agreement with the Scottish government.
The cuts include introducing charges in community care, redesigning the island's ferry service and reducing its economic development budget. The savings are likely to see around 300 jobs being lost.
In January, the Accounts Commission highlighted budget problems.
A report said there were "major challenges" in tackling Shetland Islands Council's long-term budget issues.
However, the report also praised the authority for improvements made since it passed a new five-year financial plan.
Last year the council appointed a new chief executive, Mark Boden, and a new finance chief, James Gray.