EU fishing discards deal welcomed by Scots minister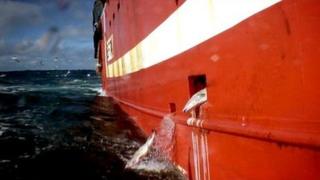 A deal has been struck to end the controversial practice of discarding unwanted fish back into the sea.
European fisheries ministers have negotiated a compromise agreement which will come into force over a number of years, beginning next year.
Scotland's Fisheries Minister Richard Lochhead said it would bring to an end a 30-year scandal.
"No longer will European fishermen be dumping millions of tonnes of fish overboard," Mr Lochhead said.
He said this was a waste of a valuable food resource "to the detriment of our stocks and the industry".
It is a victory for campaigners who have demanded the end of a policy that has brought the EU into disrepute.
The UN says Europe has the world's worst record of throwing away fish. Almost a quarter of all catches go back overboard dead because they are not the fish the crews intended to catch.
The decision reached early on Wednesday morning was driven by northern European nations, including the UK.
They prevailed over mainly Mediterranean countries, which were fighting to protect the interests of their fishermen.
Spain, France and Portugal managed to cling on to some restricted exemptions on fish discards, particularly relating to crews operating far from land in mixed fisheries where the cost of landing unwanted fish is deemed to be prohibitive.
The Scottish fleet has been working to minimise discards by using nets which only catch certain species of fish.
For pelagic species such as mackerel, the ban will come in from next year.
There will be a gradual introduction from 2016 to 2019 for species including North Sea cod.
The UK government, one of the campaigners for change, said it was disappointed that the ban was not absolute, but that the result was an historic victory to end a "scandalous" policy.
The Scottish Fishermen's Federation gave the deal a "cautious welcome" and described it as a reasonable compromise.
Bertie Armstrong, chief executive of the SFF, said: "Whilst this agreement is an important first step in ensuring the practical introduction of a discards ban, it should be recognised that huge challenges remain for the industry in its implementation that will require major changes in the way that fishermen operate.
"The Scottish industry has already made heavy sacrifices in working towards this.
"We note that there has been some criticism from the green lobby on this agreement, but the compromises agreed will assist in the practical implementation of the plan and this should be welcomed.
"It is very easy to have the luxury to commentate and criticise from the outside, without actually being involved in the practical implementation of the measures."
'Smooth implementation'
Mr Lochhead, who was part of the UK delegation, said: ‪"Fisheries Ministers from across Europe have now given a mandate to the negotiators to reach a final deal with the EU parliament as part of the reform of the failed Common Fisheries Policy.
"It has been a long hard road to achieve agreement towards a package that represents the regional difference across European fleets. And the negotiation was dominated by attempts of some nations to exempt certain stocks by adding in specific loopholes."‬
He added: ‪"We recognise there is still a challenge ahead for our fleet but they have already shown leadership by reducing discards over the past few years.
"Now there is more for them to do and a requirement for the rest of Europe to follow. We all need to work together to ensure smooth implementation."
Scottish Conservative MEP Struan Stevenson said: "There is still a long way to go before we start celebrating - and before Richard Lochhead gets too excited he should remember this is only at the first reading.
"There are still some issues that need resolved with discards - such as vessels that are in distant waters not having to sail for four days just to land unwanted catch they're not allowed to throw away."‬