OAP William Watson collapses after being jailed for sex offences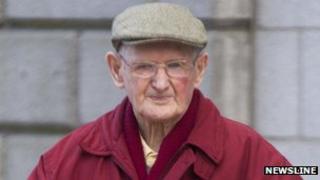 An 86-year-old man was taken to hospital after being jailed for six years for sex offences.
William Watson collapsed in the cells minutes after being led from the dock at the High Court in Edinburgh.
An earlier trial heard allegations of abuse against him dating back to the late 1960s.
Watson, of Aberdeen, had previously been found guilty of four charges of indecent behaviour involving two young girls aged 10 and nine at that time.
Judge Lady Scott rejected a plea to spare Watson from prison because of his age.
The trial at the High Court in Aberdeen had heard how Watson made the girls undress, or partly undress, at an address in Fort William, touched them, exposed himself, got them to touch him and simulated sex.
The offences were said to have continued for many years.
A trial due to begin in the same courtroom after Watson was sentenced had to be delayed because of complaints about the hot, stuffy atmosphere.