Crash victim Lily MacCluskey, 2, was 'shining light'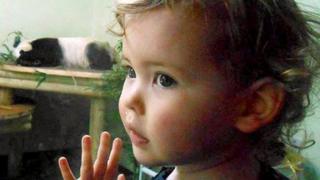 The parents of a two-year-old girl who died after being hit by a car in Portlethen in Aberdeenshire have described her as their "shining light".
Lily MacCluskey was taken to hospital after the collision with a 4x4 vehicle on Hillside Road on Tuesday afternoon.
Elaine Guthrie and Gary MacCluskey said: "We would like to thank everyone for their efforts in trying to save our little angel.
"She was, as we are sure every child is to their parents, our shining light."
Her parents wanted to thank everyone "from the lady that attempted CPR, the police officers, the first responder doctor, ambulance service, hospital staff and everyone else involved".
'Always love you'
They added: "The kind words, flowers and teddies left by our tree at our home in Portlethen will remain with us forever as we try to come to terms with the tragic accident which resulted in the loss of our Lily.
"We could not hope to put into words how we feel at this very sad time in our lives, but the support of our friends and family will, we are sure, eventually help us through.
"We are devastated at the loss of Lily at such a young age, but she will live on in our hearts forever.
"Night night baby, we will always love you and will never forget you, love mama and dada."