Plan to revive Aberdeen's Union Street unveiled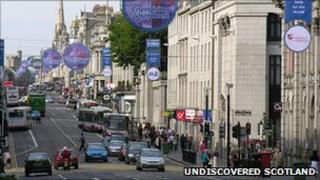 A 10-point plan has been drawn up to try to revive the fortunes of Aberdeen's Union Street.
The report by academics at Robert Gordon University suggested redeveloping existing eyesore buildings and encouraging more people to live on the street.
Union Street was once the city's main retail hub.
But it has become increasingly run down over the past 30 years as retailers moved away to large shopping centres.
Last year, proposals to regenerate Union Terrace Gardens were rejected on cost grounds.
The new plan was drawn up by a team led by Robert Gordon principal Professor Ferdinand von Prondzynski.
Its suggestions included reviewing the zoning of Union Street to include the prospect of returning parts to residential use, and redeveloping it to give prominence to pedestrian use, cyclists and public transport.
Planning mistakes from the past, such as the Market building on the Green and the Trinity Centre car park, should be redeveloped with high quality contemporary architecture and urban landscaping that contributes to the cityscape, improves connectivity, and conveys civic ambition and pride.
The report also advocates creating a new world class public facility that "celebrates our energy industries and their technological innovation, reinforces the international reputation and identity of the city, and serves as a powerful 'magnet' for Aberdeen."
'Cultural creativity'
Its authors conclude: "We are now at a critical moment in the city's history. Aberdeen has prospered as a result of its status as Europe's oil and gas capital, but it is clear that its economy needs to develop and evolve.
"A major requirement for the city will be to ensure that it attracts diverse, high value, knowledge intensive investment, and that it can successfully nurture economic and cultural creativity.
"This in turn requires a city with the capacity to let its facilities, atmosphere and amenities attract those with skills and talents to come here, and to nurture and inspire those already here.
"The city's regeneration is more than a programme to make it nicer: it is a programme to make it successful."
Professor von Prondzynski said Aberdeen had suffered in a similar way to other cities by not having a masterplan for development in recent decades.
He added: "You can see the quality of the buildings that were there originally (in Union Street) and the intelligence of the design that had been put into it.
"All of that has somewhat been lost because we've lost the connectivity between Union Street and other parts of the city, and then a lot of the shops have been sucked out by new shopping centres, and it doesn't now look what it should look like."