Black seal pup rescued from Aberdeen beach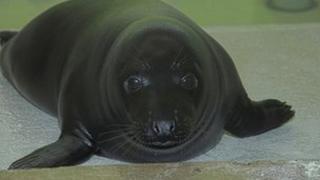 A rare jet black seal pup is recovering at a rescue centre after being found struggling to survive on Aberdeen Beach.
Liquorice, who is actually a young male grey seal, was weak and very thin when he was found by a member of the public.
His coat is jet black, which is said to be very unusual for a seal of his kind.
The Scottish SPCA is now rehabilitating Liquorice at its National Wildlife Rescue Centre at Fishcross in Clackmannanshire.
Centre manager Colin Seddon said: "Liquorice weighed only 14kg when he was rescued and we'd expect a pup of his size to be at least 20kg or more.
"It's common in grey seals for the male to be darker than the female, but Liquorice's coat is jet black which is very unusual. This is the first pup of this colour to come into our care for many years.
"There seems to be more sightings of black coloured grey seals in the north of Scotland and they do appear on Shetland, but not in large numbers.
"Thankfully Liquorice is doing really well and feeding himself without any trouble. His weight is increasing steadily and he's now a much healthier 19kg.
"All going well we hope to release him back in to the water within the next month."