Winter weather eases grip in north east of Scotland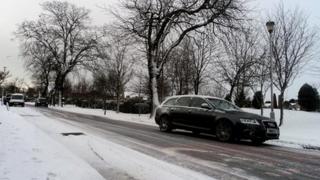 The winter weather has eased its grip in the north east of Scotland, a day after causing major travel problems.
More snow fell on Wednesday night, but there was no repeat of the serious delays that had faced motorists, such as in Aberdeen.
In Aberdeenshire, conditions were described as hazardous on the A939 Cockbridge to Tomintoul road.
Grampian Police continued to advise drivers to take extra care and allow more time for journeys.
To access more information from your mobile, visit the BBC Weather and BBC Travel News sites.
The enhanced content on this page requires Javascript and Flash Player 9
Map Key
Land
Cloud
Lakes, Rivers & Sea
Fog
Light
Heavy
Frost
Light
Heavy
Pressure Fronts
Cold
Warm
Occluded
Rain
Light
Heavy
Extreme
Snow
Light
Heavy
Temperature tab only
Temperature (°C)
More details from BBC Weather