Dog rescued after embankment fall near Forres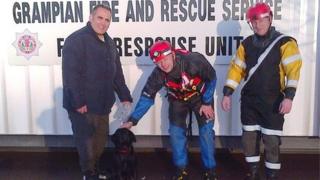 A pet dog has been rescued after plunging down a 40ft embankment and getting stuck in tree branches overhanging a river near Forres.
The owners of black labrador Maisie feared she had drowned after the incident in Moray.
However, she was saved after a two-hour operation by Grampian Fire and Rescue Service and the Scottish SPCA.
Maisie's owners said it was "absolutely wonderful" that she had been saved, and thanked the rescue teams.
David Farquharson, watch manager at Elgin Fire Station, said: "Two men went into the river and climbed up onto a ledge to reach the dog.
"They calmed the dog down before swimming her down river to a safe landing point.
"We're glad the owners contacted the fire service for help as we have had instances in the past where people have entered the water to retrieve their pet and got into difficulty themselves."