Bervie Braes: Road 'could reopen to light traffic'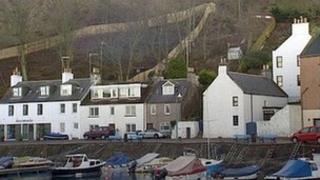 The Bervie Braes road in Stonehaven - which has been closed for several years - could be reopened to light traffic, Aberdeenshire Council has said.
Officers looked at eight options amid concerns from residents, in the wake of landslips.
The Kincardine and Mearns area committee will next week be told that making the the road one-way, with a weight restriction of three tonnes and a 20mph speed limit, is workable.
It would cost about £300,000.
The road would only open for a few months, and a system to trigger its closure in particularly wet conditions would also need to be installed.
There is no funding in place for the scheme.
If it is pursued, a request for finances would be made to the policy and resources committee.
The reopening of the Bervie Braes could be worth up to £9m a year to the area, a report claimed last month.