Appeal over 'elastic bands' cat in Buckie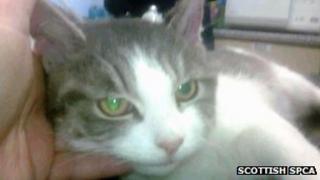 The Scottish SPCA has appealed for information after a pet cat was found with elastic bands tied around his back legs and ears in Buckie.
The animal charity was alerted after Tom was found struggling to walk in Buckie's Hendry Terrace early on Sunday.
Senior Inspector Lesley Crockett said: "These bands would have caused Tom pain and suffering.
"It's difficult to comprehend why someone would do this."
She added: "Thankfully, the bands were removed before any extensive damage was done.
"If Tom hadn't been found they could have cut off the circulation to his paws and ears.
"We don't think he had gone very far so it's possible the person who did this to Tom lives locally."