Appeal over blind arthritic cat found in Aberdeen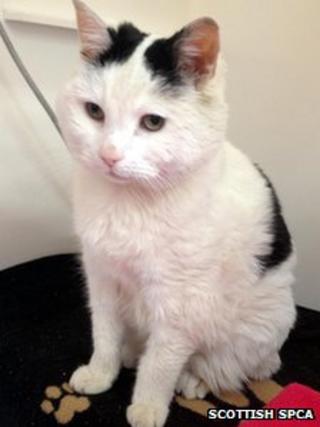 The Scottish SPCA has appealed for information after a lost blind pet cat was found bumping into things in Aberdeen.
A resident of Greenbrae Crescent in the Bridge of Don area spotted the white and black female struggling last Friday.
It is thought the cat - aged about eight - also has arthritis.
She has been named Daphne and is being cared from at the charity's Drumoak rescue centre.
Centre assistant manager Debbie Innes said: "The person who contacted us about Daphne was worried as she kept bumping into things.
"A vet has confirmed that she is blind and possibly has arthritis in her back legs.
"She was wearing a collar with a cat flap sensor but, unfortunately, has no microchip or identification."
'Missing her'
She explained: "Daphne is a sweet girl and is adapting to her new surroundings. She copes very well despite being blind, using her other senses to help her maintain a good quality of life.
"Daphne is affectionate and we believe someone may be missing her.
"It's possible something frightened her when she was out, resulting in her being unable to find her way home.
"It would be lovely to return Daphne home if this is the case, but if no-one comes forward we'll be looking to find her a loving new owner."