Billy Connolly and Stuart MacBride back Aberdeen bid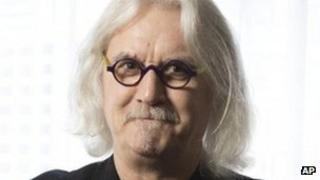 Comedian Billy Connolly and author Stuart MacBride have backed Aberdeen's bid to be UK City of Culture in 2017.
Aberdeen and Dundee have both applied to become the next city of culture, alongside nine other towns and cities from elsewhere in the UK.
The Scottish comedian said Aberdeen deserved to be recognised, and the author said the city had earned the chance to shine.
Percussionist Dame Evelyn Glennie last week also backed the bid.
Mr Connolly said: "Aberdeen becoming UK City of Culture would be a great thing.
"In addition to its many other cultural attributes, the heritage of traditional music and ballads in Aberdeen and the north east is outstanding and deserves wider recognition. I hope this can be achieved."
Mr MacBride said: "Many people seem to think culture in Scotland only happens in Edinburgh and Glasgow - that everywhere else is just mountains, tartan, whisky, and shortbread.
"But this is an opportunity to show there's a lot more going on.
"The north east has a great tradition of literature, art, and music that many people simply don't know about, and making Aberdeen the UK City of Culture would be a terrific way of sharing that artistic wealth with the rest of Britain.
"It's time Scotland's third largest city got the chance to shine."
'More inspiring'
Aberdeen's bid manager Rita Stephen said: "To have Billy Connolly and Stuart MacBride support us just days after Dame Evelyn Glennie publicly announced her support is very special indeed.
"We know that if we do this right then we have the opportunity to make Aberdeen a more creative city, a more inspiring city and a better city to live.
"We could be creating the next generation of Billy Connollys, Stuart MacBrides and Evelyn Glennies."