Aberdeen tower block firefighters use buckets after safety kit theft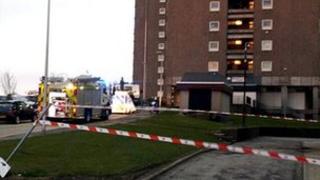 Firefighters had to use extinguishers and buckets of water to tackle a blaze in a tower block because metal thieves had damaged safety equipment.
The alarm was raised at the Kings Court block, in the Tillydrone area of Aberdeen, at 04:15.
Firefighters discovered fires on communal landings on the 10th and 12th floors.
However, it is believed that metal thieves had removed part of the dry riser system at the flats.
The system is designed to allow water to be pumped into multi-storey buildings.
Residents were told to stay inside their flats while firefighters brought the incident under control. No-one was injured.
A joint police and fire investigation is to be carried out into the fires.
'Inexcusable act'
A spokesman for Aberdeen City Council said: "We are deeply concerned by this incident and will be working closely with colleagues in the police and fire service to assist in their efforts to apprehend the perpetrators.
"Thankfully nobody was injured in this incident but the consequences of the actions of those responsible could have been much different.
"The theft of metal fittings, particularly from equipment of this nature, is an inexcusable act and in light of this incident arrangements have been made to carry out urgent checks on similar equipment in other council multi-storey blocks."
He went on: "The council, along with our colleagues in the police and fire service, will also be actively investigating whether there are steps that can be taken to reduce the likelihood of this happening in the future.
"This equipment is regularly checked, either by the fire service or our own contractor. This particular piece of equipment was last serviced by our contractor as recently as 5 March when it was found to be fully operational and without defects.
"We would urge any resident or visitor in a multi-story block who witnesses anything untoward to contact the police immediately."