Baby needed 'huge amount' of sugar, trial hears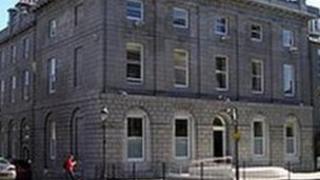 A baby, allegedly the victim of attempted murder, had to be given "huge amounts" of sugar as her levels were so low, a trial has heard.
A doctor told the High Court in Aberdeen how the baby had to undergo the medical procedure.
Dr Amalia Mayo Garcia said she also found a pin prick on the baby's thigh which looked like an insulin injection.
Nicola Warrender, from Aberdeen, denies twice attempting to murder the baby with insulin injections.
The court heard how the baby, who cannot be named, had to have a central line attached to her body so she could be given a higher dose of sugar.
Dr Mayo Garcia, a paediatric specialist, said the procedure involved putting the child to sleep.
She was working at Royal Aberdeen Children's Hospital when the baby was admitted in January 2011.
Pin prick
The paediatrician said the baby was initially given dextrose sugar through the vein but she was concerned because her blood levels remained low so the central line had to be used.
Dr Mayo Garcia, who also specialises in diabetes, said she examined the child and found her to be alert and irritable.
She said she also discovered a mark on her inner left thigh during the examination.
The doctor told the court: "It looked like a pin prick, very small. I'm quite used to seeing insulin injections on children and it looked like one of those."
Blood samples taken from hourly tests on the young baby recorded fluctuating blood sugar levels throughout the day on 14 January.
Her tests results stabilised after she was given a central line at about 19:00 the following day.
The specialist said she was surprised to find that the baby needed a "huge amount" of sugar to bring her blood sugar levels up.
She said she had only seen this situation happen with newborn babies.
Asked what she thought of the results, she replied: "It's the sort of thing I would have thought can be explained by somebody having been given insulin."
The doctor said she later spoke to Ms Warrender, who had been caring for the child, and explained that the baby could have been given insulin.
She said she would have expected someone to have been upset or angry when told that a baby had possibly been injected with a substance "that could cause damage".
But she said she could not remember Ms Warrender react in this way.
No marks
Defence lawyer Mark Stewart told Dr Mayo Garcia that another doctor had examined the baby when she was admitted and had found no marks on the child.
He asked whether his client had been advised of the results of both physical examinations at the hospital.
Dr Mayo Garcia replied: "I don't know."
Mr Stewart told the court that hospital scandals involving insulin had been uncovered before.
The lawyer then listed the names of several medics convicted of crimes while working in hospitals, including nurse killers Colin Norris and Beverley Allit.
Ms Warrender is accused of attempting to murder the baby with an injection of insulin at a flat on 23 November 2010.
She is also accused of attempting to murder the infant with another injection to her severe injury at Aberdeen Royal Infirmary on 14 January 2011.
She denies both charges. The trial continues.