Fire at disused Torryburn Hotel in Aberdeenshire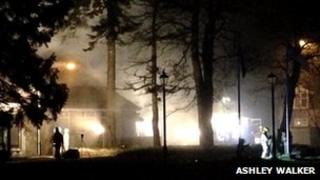 An investigation into the cause of a fire at a disused hotel in Aberdeenshire has been launched.
Emergency services were called to the old Torryburn Hotel in Kintore shortly after 23:00 on Thursday.
A total of 45 firefighters were involved in tackling the fire, using a specialist height vehicle and thermal imaging equipment.
No-one was injured in the incident. The cause of the fire has not yet been established.
Scottish Fire and Rescue Service group manager Fraser Burr said: "The crews worked extremely hard in very arduous conditions to bring the fire under control, and stop if spreading to the rest of the hotel.
"It's too early to establish a cause of the fire, but a specialist fire investigation unit, alongside colleagues in Police Scotland, will begin the work to establish what started the fire."
Do you have pictures - still or moving - of the scene of this incident? Send them to the BBC Scotland news website at newsonlinescotland@bbc.co.uk
Please ensure when filming or photographing an incident that you make your safety and the safety of others a priority.
If you submit an image, you do so in accordance with the BBC's Terms and Conditions.