Images for former Aberdeen City Council HQ plans released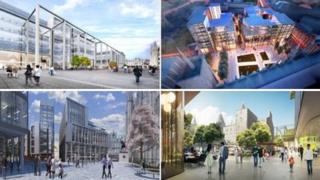 Images of four proposed schemes for the development of the former Aberdeen City Council headquarters site have been released.
More than 1,000 council staff vacated 14-storey St Nicholas House, erected in 1968, for the newly-refurbished Marischal College building in 2011.
Offers were then received from potential buyers.
A full report on the disposal of the site will be considered by the full council when it meets on 1 May.
BBC Scotland had revealed in September that Aberdeen City Council officials had recommended a shortlist of four potential buyers be drawn up.