Rescued lamb 'River' being returned to farmer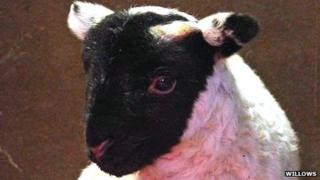 A newborn lamb which was saved from drowning after being rescued from an Aberdeenshire river is being returned to the farmer who owns it.
Willows Animal Sanctuary, near New Pitsligo, had looked after the lamb - which was named River - since it was handed in earlier this month.
However, John McIrvine told the sanctuary he owned the "pedigree" lamb and wanted it back.
Willows said the lamb was now being returned to its owner.
The matter looked set to become a legal wrangle as Willows had hoped they would be allowed to keep the lamb, and also wanted proof of ownership.
Vulnerable people who use the organisation's animal assisted therapy programme were said to be "deeply distressed" about the prospect of losing River, after becoming attached.
Mr McIrvine said he wanted the lamb back due to his breeding potential.