Plans for Chapleton of Elsick project in Aberdeenshire backed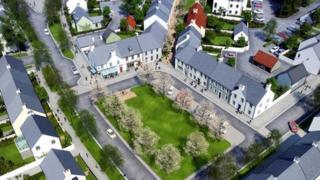 Outline planning permission has been granted for a major new town development in Aberdeenshire.
Developers said 4,000 homes would initially be built at the Chapelton of Elsick project, 10 miles south of Aberdeen, with 8,000 being the long-term target.
The planned site is a 2,000-acre area of farmland near Newtonhill.
Aberdeenshire's Kincardine and Mearns Area Committee backed the plans from the Elsick Development Company (EDC).
The detailed application for the first 800 homes was also passed.
Lord Southesk, director of EDC, said: "We believe that Chapelton will be a major economic boost to the area as well as addressing the need for housing of all types.
"With up to 8,000 homes planned in the long term, as well as schools, community facilities and commercial space, Chapelton is set to become a major new Aberdeenshire community."
It is hoped several thousand jobs would be created.
Objectors have focused on the loss of farmland.
It has been estimated that Aberdeen and Aberdeenshire may need 75,000 more homes over the next 20 years to cope with demand.