Black widow spider found in Aberdeen in US shipment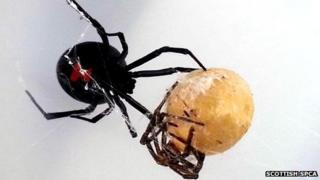 A black widow spider has been found in Aberdeen in a piece of pipe sent for testing from America.
Employees of Innospection at Kirkhill Industrial Estate in Dyce were said to be "shocked" at the discovery of the potentially deadly spider.
The Scottish SPCA was contacted, and an exotic animal rescue charity in Inverness offered the spider a home.
Animal Rescue Officer Karen Hogg said: "The callers waited until I arrived. Black widows are highly venomous."
She explained: "A bite would leave you feeling very unwell and, if suffering from an underlying medical condition, it could even prove fatal."
An Innospection spokesman told the BBC Scotland news website that staff had done the right thing.