Injured capercaillie released back into wild in Ballater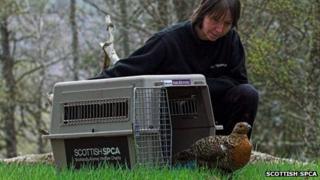 A capercaillie has been released back into the wild after being found injured in Aberdeenshire.
The Scottish SPCA was contacted after the bird was discovered in Ballater earlier this month.
It was taken to the charity's National Wildlife Rescue Centre in Fishcross in Clackmannanshire for treatment.
Centre manager Colin Seddon said: "This is the first time our centre has dealt with a capercaillie, which is now quite rare."
He explained: "The capercaillie had sustained an injury to her shoulder but thankfully made an excellent recovery after receiving treatment.
"After less than a week in our care, we released her back at a suitable site in Ballater."