Builders sign up for Chapleton of Elsick project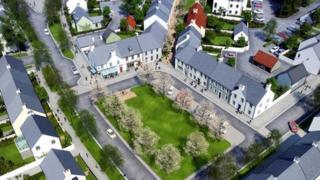 Developers behinds plans for a major new town development in Aberdeenshire have signed deals with three housebuilders for the first phase of the project.
The Chapelton of Elsick project, 10 miles south of Aberdeen, has a long-term target of 8,000 homes.
The planned site is a 2,000-acre area of farmland near Newtonhill.
The first 225 homes will be built by ZeroC Holdings in partnership with Hope Homes, AJC Homes and A&J Stephen.
It is hoped that the housebuilders will start on site in the spring of next year.
'Major milestone'
Aberdeenshire Council's Kincardine and Mearns area committee last month granted outline planning permission for the project.
Elsick Development Company (EDC) said the tender process was also now under way for the infrastructure works for the first phase.
Six companies have been invited to tender for the multi-million pound contract.
Lord Southesk, director of EDC, said: "Today's announcement is another major milestone for us and takes us another step closer to getting construction under way."