Boy killed by crane in Aberdeen a 'ray of sunshine'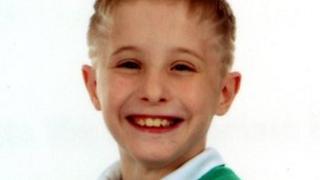 The parents of an eight-year-old cyclist who died after a crash with a mobile crane in Aberdeen have described him as a "ray of sunshine".
Kyle Allan died in Aberdeen Royal Infirmary on Tuesday after the accident on Aberdeen's Great Northern Road, close to the Haudagain roundabout.
Relatives said in a statement: "He was much-loved. He will be greatly missed.
"We would like to thank everyone who assisted at the scene. Our thoughts are also with the driver at this time."
Earlier, Kyle's head teacher, Paul Rooke, of Manor Park School, said: "Kyle was an absolutely delightful young lad."
He added: "He was incredibly popular amongst children, staff and in the community.
"Kyle's positive and fun-loving nature was a blessing to have around Manor Park School.
"He was bright, chirpy, eager to learn and do well. I speak for all when I say that he will be terribly sadly missed."
Mr Rooke went on: "Our school community is shocked and devastated but we will be even closer than ever over the next while, in order for us to support each other through the difficult times ahead.
"All of our thoughts and prayers are with Kyle's parents, Kelly and Jamie, his siblings, Morgan, Ryan and Jack, and the wider family."
Police have appealed for witnesses.