On the campaign trail in Aberdeen Donside by-election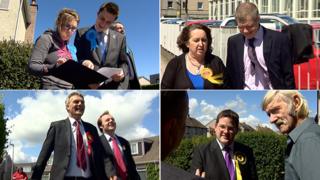 About 148 ft up you get a clear view across Europe's energy capital.
In the distance oil industry vessels bob in the North Sea. Above, there is the regular hum from helicopter engines ferrying crews between rig and airport.
The SNP have chosen the Aberdeen Exhibition and Conference Centre tower to launch their Donside by-election campaign.
The constituency below should be safe territory.
At the last Holyrood election the party's Brian Adam secured the seat with more than half the votes.
That makes the current SNP candidate, Mark McDonald, the clear favourite.
He gave up his regional list seat (and £57,520 salary) in the Scottish parliament to fight the by-election.
A local resident, he hopes to capitalise on the popularity of Mr Adam, whose death caused the contest.
'Shout for Aberdeen'
Mr McDonald described Mr Adam as a close friend and mentor.
He said "I know that Brian would be determined for the SNP to hold this seat".
Mr McDonald is a career politician having studied politics at university before being elected to Aberdeen City Council and most recently winning a regional seat at Holyrood.
His pitch to voters is to promote SNP Scottish government policies like freezing council tax, scrapping prescription charges and tuition fees.
When I asked him if that campaign simply meant he would be Holyrood's man in Donside he denies it.
"No, absolutely not, I will be Donside's man in Holyrood. I will continue to shout for Aberdeen in the way that Brian Adam shouted for Aberdeen during his time as the MSP for this area. I want to carry on in his legacy, continue the good work that he did and ensure that people receive the same high level of representation from me as they did from Brian."
Labour's candidate, Willie Young, is an Aberdeen City councillor and convener of the finance and resources committee.
He criticised Mr McDonald's lack of experience outside politics and said he is better placed to represent the people of Donside.
"I have been a member of the children's panel. I have helped people who are in very, very serious situations. I have been a justice of the peace and Labour values come through on all those kind of things."
In Mr Young's council register of interests he lists several properties.
"Are you a millionaire?" I ask. He hesitates and then replies: "Difficult question. I don't think so."
"Are you nearly a millionaire?" I probe.
"I would say probably."
The SNP accuse Mr Young of supporting an increase in council tax.
He says the issue should be looked at but not before the next Holyrood election.
City's infrastructure
Mr Young claims the SNP are failing to deliver improvements to local roads - particularly the often congested Haudagain roundabout.
The Conservatives have picked a councillor as their candidate too.
Ross Thomson is another politics graduate who worked in retail before being elected to the local council.
He claims his record of delivery in office will help him succeed in this contest.
"I delivered the third Don crossing. I managed to ensure investment in the city's infrastructure. That is the Berryden corridor and the Dyce drive link road. We have got a real record of delivery."
But he is less clear on whether he favours controversial plans to merge four local schools into two.
"Any proposal will be scrutinised through a robust and thorough process.
"Educational merit, educational benefit is of paramount importance. I won't support anything which isn't going to benefit education within the city."
The Liberal Democrats have chosen veteran campaigner and former journalist Christine Jardine as their candidate.
Despite the humiliation of the 2011 Scottish parliament election where the party was left with just 5 MSPs and further poor performance in the recent South Shields Westminster by-election (where the Lib Dems came 7th) she is confident of her chances.
She said:"Since the Holyrood election we have seen the extent to which the SNP is willing to short change Aberdeen. They have no faith in the Labour council to deliver and they are looking for something different. They don't want another nationalist who will just bang the drum for independence."
The by-election takes place on 20 June the 20th.
The other candidates standing in the by-election are Rhonda Reekie (Scottish Greens), Otto Inglis (UKIP), Dave MacDonald (National Front), James Trolland (Scottish Democratic Alliance) and Tom Morrow (Scottish Christian Party "Proclaiming Christ's Lordship").