Stonehaven open air pool boy incident reported to Crown Office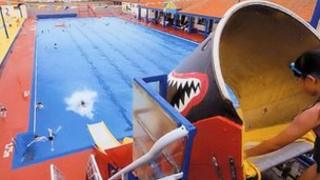 A Health and Safety Executive (HSE) report into a young boy being found unconscious at the bottom of Stonehaven outdoor pool has been submitted to the Crown Office, BBC Scotland has learned.
The boy needed specialist hospital treatment after he was found under the water in June last year.
The pool was closed for more than two weeks and subsequently increased lifeguard cover.
The HSE said its investigations were now complete.
The injured boy - from Ferryhill Primary - was taken to hospital in Aberdeen before being transferred to a specialist unit in Edinburgh.
He was later released to recover at home with his family.