Scapa Flow: Search for missing divers to resume on Thursday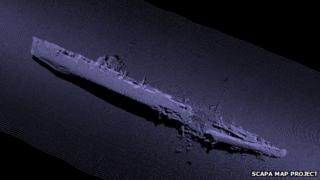 A specialist police dive team is to try to locate two Dutch men missing in Orkney after a dive in Scapa Flow.
An extensive air and sea search was launched on Tuesday afternoon when the men - understood to be in their 60s - failed to return to a local boat.
Despite near perfect conditions, no trace of the men was found. The operation was suspended at 20:00.
Police said a dive team was being sent to Orkney, with efforts to locate the men to get under way on Thursday.
Any hopes of finding the men alive were said to have faded.
A police spokesperson said: "Further efforts to locate them will be made.
"The missing divers have not yet been located and there are serious concerns for their wellbeing."
The Stromness lifeboat and Sumburgh-based coastguard search and rescue helicopter had been involved in Tuesday's operation.
The pair had been diving on the sunken German warship SMS Brummer, which is lying in 36m of water.
Scapa Flow is a popular destination for visiting divers with the wrecks of the German Fleet which was scuttled in its sheltered waters in 1919.
The Brummer is not considered to be one of the more technically difficult dives in the area, but the deteriorating condition of all of the wrecks can make them dangerous.