Orkney's 'oldest telegraph pole in UK' donated after retiral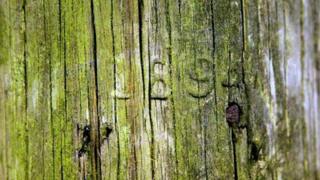 A telegraph pole claimed to be the oldest surviving in the UK has been donated to a museum after being retired from its role on Orkney.
The 119-year-old tree trunk is date-stamped 1894, dating from during Queen Victoria's reign.
The Kirkwall telephone exchange only opened in September 1923, before which the pole was believed to be used for sending telegraphs.
BT has now donated it to the Orkney Museum.
Curator Sheila Garson said: "Obviously we would love to put it on display, but given its size, of almost 13ft in length with the date stamp 4ft up from the base, it will not be an easy object to display in a gallery setting.
"To my knowledge, no other Openreach area has put forward an older telegraph pole, so it does look as if this is the oldest known surviving telegraph pole in the country."
'Good shape'
David Hay, head of heritage at BT, said: "We are delighted to have donated such a significant object to Orkney Museum, where it will be protected for future generations of local people to enjoy - and to help them discover more about the history of communications in Orkney."
Openreach plant safety risk manager Bob Reader added: "The pole is still in fairly good shape generally.
"The only reason we had to take it down was because some of the markings we use to check poles are standing safely had weathered away.
"It's amazing to think it was planted before the Boer War started, has been through two world wars, and outlived five British monarchs."
Orkney Museum is currently closed for renovation work.