Donald Trump flies in to visit golf course site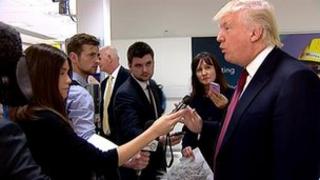 Donald Trump has flown into Aberdeen to visit the site of his proposed second golf course.
The US tycoon also reiterated his opposition to a planned offshore wind farm off his development at the Menie estate in Aberdeenshire.
He has already launched a legal challenge against the Scottish government's decision to grant planning permission.
Mr Trump will name the new course after his Scottish-born mother Mary MacLeod.
The £230m European Offshore Wind Deployment Centre (EOWDC) project consists of 11 wind turbines and is aimed at providing enough energy for more than 49,000 homes.
Ministers believe renewable energy is essential for Scotland's economy.
Mr Trump has lodged the challenge at the Court of Session.
The petition asks the court to declare that the decision not to hold a public inquiry, and the subsequent approval of the EOWDC, were unlawful. It calls for the decisions to be reversed.