Sir Ian Wood to lead review of UK oil and gas industry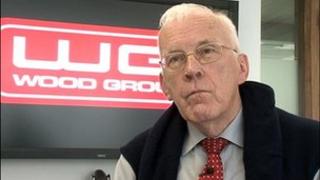 Retired Aberdeen businessman Sir Ian Wood is to lead a review of the offshore oil and gas industry for the UK government.
Energy Secretary Ed Davey announced that the former chairman of Wood Group will head the first such review for two decades.
Mr Davey said the sector faces "unprecedented challenges that require new thinking".
This included declining drilling and production rates, and ageing equipment.
He said he wanted to maintain momentum in the industry and make the most of the "huge opportunity" that still exists.
Mr Davey explained: "I have come to the view that the challenges we now face are of sufficient importance that they merit a focused, in-depth review.
"Such a review has not been conducted since the early 1990s when the challenges faced were very different to those we face now."
Sir Ian said: "The values involved in UK oil and gas are so large that even modest increases in key production metrics over time will deliver significant economic benefits."
He retired as chairman of Aberdeen-based oil services firm Wood Group last year.
Sir Ian had been chairman of the company since 1982 and served as its chief executive from 1967 to 2006.