St Nicholas House: Selection process for Aberdeen work challenged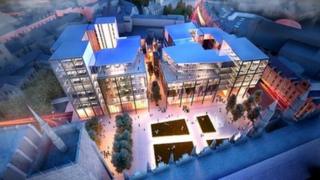 One of the unsuccessful bidders for the development of the former Aberdeen City Council headquarters is challenging the selection process, BBC Scotland has learned.
Muse Developments was named last month as the preferred bidder for the St Nicholas House work.
HFD Group is now challenging the process for potential bidders.
An Aberdeen City Council spokesperson said: "We are confident in our very robust processes."
Lawyers for HFD said in a letter to the council that judicial review could be pursued, and wanted a response by Friday about re-running the process.
The council spokesperson added: "We will respond directly to HFD Group's solicitor."
More than 1,000 council staff vacated 14-storey St Nicholas House, erected in 1968, for the newly-refurbished Marischal College building in 2011.
Muse Developments plans a development comprising linked buildings, the tallest of which would be 10 storeys.
BBC Scotland had revealed in September that Aberdeen City Council officials had recommended a shortlist of four potential buyers be drawn up.