Aberdeen murder victim's family lose Sainsbury's legal bid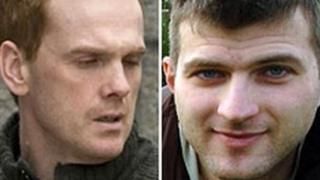 Relatives of a man murdered by a work colleague in an Aberdeen supermarket have failed in their attempt to sue Sainsbury's for £500,000.
Robert McCulloch admitted stabbing Lithuanian national Roman Romasov, 28, at the Berryden Road store in 2009.
A judge last year gave the family of Mr Romasov permission to pursue a damages claim against Sainsbury's.
But that ruling has now been overturned after judges at the Court of Session backed a Sainsbury's appeal.
After admitting murder in 2009, Shelf-stacker McCulloch, now 38, was told he would have to serve at least 10 years and nine months behind bars.
Relatives of Mr Romasov had claimed Sainsbury's was liable for the actions of its then-employee.
But the Lord Justice Clerk, Lord Carloway, sitting with Lord Brodie and Lord McGhie, concluded that there was no link between Mr McCulloch's conduct and his job which could make his employers "vicariously liable."
Rugby tackle
Mr Romasov had moved to Aberdeen to study and work.
On the night of the attack, an argument was said to have started after Mr Romasov dropped crates on the floor.
Before McCulloch attacked his victim - with a six-inch kitchen knife - he went to the toilet and claimed Mr Romasov grabbed him, and said he would kill him if he lost his job.
A manager at the shop rugby-tackled McCulloch in an effort to stop him during the attack, but he managed to free his hands, and knifed Mr Romasov repeatedly.
Mr Romasov, who died from multiple stab wounds to the chest and stomach, had been studying mechanical engineering and was described as "a very private person" and a hard worker.