Moray hate mail woman Joan Stewart avoids jail sentence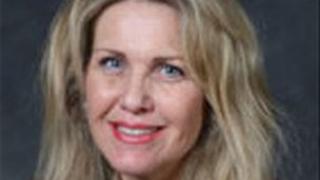 A woman who admitted sending a female Moray councillor hate mail after she defeated her husband at an election has avoided a jail sentence.
Carolle Ralph felt forced to step down in December after spending six months representing Lossiemouth's Heldon and Laich ward.
Joan Stewart, 59, admitted causing Mrs Ralph - who defeated her husband David Stewart - to suffer fear and alarm.
A community payback order was imposed on Stewart as an alternative to prison.
She was ordered to carry out 200 hours unpaid work in the community within eight months at Elgin Sheriff Court.
Offensive remarks
Stewart sent a string of offensive letters to Mrs Ralph and the "personal campaign of intimidation" forced her to quit the local authority after she won her seat.
The letters - sent between 4 May and 29 November last year - criticised the councillor's work and professional conduct, and contained offensive remarks about Mrs Ralph and her family.
Stewart, 59, pled guilty when she appeared at a previous Elgin Sheriff Court hearing.
Fiscal depute Alison Wylie said that when asked by police what she hoped to achieve, Stewart told them: "I think I just wanted her to know the feelings of the folk in the town - what folk were saying."
Ms Ralph was elected for the first time as one of four councillors to serve the Heldon and Laich ward for Moray Council in May last year.
The former social worker was put up against sitting councillor and colleague Mr Stewart, also 59.
The nationalist vote in the ward was split, resulting in Mr Stewart losing his seat in a surprise defeat.
He was well-known locally and had served as chairman of the Save RAF Lossiemouth campaign to stop the base being closed down.
The former councillor later quit the SNP and now works in the oil industry.
Defence agent Ian Cruickshank said the case was "tragic" for Mrs Ralph, democracy, the community of Lossiemouth and for the once proud councillor's wife.
He apologised on behalf of Stewart to Mrs Ralph.
Mr Cruickshank said: "Democracy had spoken and that should have been the end of matters. But what Mrs Stewart saw was her husband in quite a state. Mr Stewart's world collapsed following the election result. This sad chapter needs to end."
Mrs Ralph claimed she had been put under "unacceptable" stress as the result of stalking when she resigned from her post in December.
The allegations shocked the small community in Moray when police were called in to investigate claims that Mrs Ralph had been stalked.
Officers took DNA and fingerprint samples from one of the four handwritten letters and the Stewart family were asked to provide elimination samples as witnesses.
Suspicions arose when Mr Stewart's wife refused to provide a sample and she later admitted writing the letters.
Passing sentence Sheriff Susan Raeburn said: "This is not a court of politics, this is not a court of morals, this is not a court of public opinion. This is a court of justice and impartiality."
In addition to the payback sentence, Stewart was placed under supervision for a year and must attend victim awareness and anger management counselling.