'Nightmare honeymoon' compensation paid to Aberdeen couple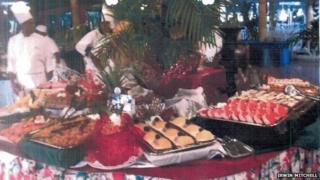 A couple have been refunded the cost of their "disastrous" honeymoon as part of £1.9m compensation paid to 400 guests who fell ill in the Dominican Republic.
Charles and Lyn Black, from Aberdeen, had stayed at the Bahia Principe hotel in 2007.
Weddings, honeymoons and birthday celebrations were all affected by bugs including salmonella, shigella and campylobacter.
Travel operator First Choice is among a number of firms to pay compensation.
The Blacks were refunded their costs by First Choice as part of payments to 400 customers.
Mr and Mrs Black told the BBC Scotland news website: "Nothing will ever make up for the disappointment on our honeymoon.
"It has taken five-and-a-half years to get anything back and we have been refunded the cost of the holiday, which doesn't make up for anything.
"It was our honeymoon and the hotel staff and holiday rep were not helpful at all during our stay.
"People were ill throughout the hotel and we tried to watch everything we ate but we still fell ill.
"The air conditioning did not work in our room and we even opened our fridge to find out-of-date juice.
"We certainly won't be going back to the Dominican Republic on holiday."
Nightmare trips
The settlements, which were approved at the High Court in London, included damages for 60 children who fell ill while on holiday at the resort.
Law firm Irwin Mitchell said more than £5.5m has been awarded in total to 963 people who stayed in the hotel in 2007.
It said First Choice was the final major holiday company to settle, after Thomson paid out almost £200,00 in 44 similar cases last December.
The firm said Thomas Cook and My Travel made settlements totalling £3.5m more than four years ago, for 500 customers who stayed at the hotel at the same time.
Guests told the legal team that the hotel was like a "casualty ward" and that food was undercooked, dogs and mice were seen in the dining area and cockroaches and ants were seen in bedrooms and bathrooms.
A spokesperson for Irwin Mitchell said: "There have been problems at the hotel on and off for 10 years in the lead-up to the 2007 outbreak, and we are still receiving complaints from guests five years after that dreadful outbreak.
"We remain very concerned that hotels and tour operators have not learned vital lessons and that all too often holidaymakers suffer illness, sometimes with life-changing consequences due to inadequate health and hygiene standards."
First Choice said it did not comment on individual settlements.