James Munro jailed for life for Kim Campbell's murder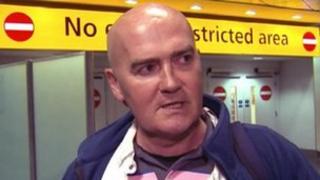 A jealous oil worker who stabbed his fiancee to death in the bath with their eight-year-old son behind the door has been jailed for life.
James Munro was ordered to serve at least 20 years for the murder of Kim Campbell before he can ask for parole.
Lord Uist told Munro, 56, he was an "evil and violent man".
The judge said he had lied, tried to cover up the murder and wept crocodile tears for Ms Campbell, who bled to death in the bath of their Elgin home.
Ms Campbell, 41, had 27 knife wounds when she was found in November last year.
The court heard that although many of her injuries were little more than pricks or scratches, major blood vessels had been cut and the large kitchen knife found by police had also penetrated her lungs.
Another blow had sliced her skull to the bone.
'Unsparing slaughter'
Lord Uist told Munro: "What you did to her then can properly be described as unsparing slaughter. This attack was carried out while your eight-year-old son was outside the door."
After returning a majority verdict, the jury heard about Munro's history as a wife beater.
He was given a six-year jail sentence for scarring his then wife for life in a similar attack in Invergordon in September 1993.
A court heard how he had attacked her in the bathroom, chased her into the street and slashed her face with a knife.
During a week-long trial at the High Court in Edinburgh James Munro wept in the witness box as he told how he loved Ms Campbell, his partner of 10 years, and said he could not live without her.
But days before Kim Campbell's violent death he had vowed she would be dead before Christmas.
The court heard that holiday snaps on a computer had fuelled Munro's jealous rage. Ms Campbell had taken a short break in Tunisia with her friend Helen Taylor, 47 - who had photographed her kissing a water sports instructor there.
Munro, who regularly scanned his partner's Facebook page and similar accounts, came across the photo.
Son fled
At the time he was working in Libya and had also been worried by a comment from two acquaintances who said: "Is Kim behaving herself?"
Munro began a stream of vile abuse using Skype, texts and emails.
Ms Taylor told the trial: "He was getting quite intense with his threats. He threatened to murder her, his partner and their children.
Munro's suspicions were raised again when he discovered that other holiday photos had been deleted.
Munro told the court how he had confronted Ms Campbell in the early hours of the morning.
He tried to persuade the jury that she pushed him into a bath as he tried to show her the laptop then jumped in after him with a large kitchen knife.
He claimed she confessed to sleeping with the man in the photo as she held a blade above him during a struggle in the bath - a claim he had not made when being questioned by police.
The couple's eight-year-old son heard his mother's screams for help and fled in his pyjamas, taking his pet dog, in a search for help.
The boy, now aged nine, had to give evidence over a CCTV link about how he heard his father attack his mother.
Drug trafficking
Lord Uist told Munro: "There are two victims. Kim Campbell and also your young son left without a mother and, in practical terms, without a father."
The court heard how after the killing, Munro drove to a lonely spot in woods on the Kellas to Dallas road, near Elgin.
He cut himself on the shoulder and chest to make it look as though Ms Campbell had attacked him.
He also scattered drugs, prescribed for his heart condition, to make it look as though he was contemplating suicide.
"You lied and shed crocodile tears," said Lord Uist.
The trial also heard how Munro travelled round the world testing oil rig and gas pipeline equipment.
He had been stranded in Libya during the anti-Gadaffi uprising until a light plane managed to get through to his desert camp and pluck him to safety in February 2011.
He returned to Libya a year later.
During the trial he told how his offer to plead guilty to a reduced charge of culpable homicide had been rejected by prosecutors.
The jury rejected his claim that he did not mean Ms Campbell to die but had been provoked by her violence and infidelity.
In 2000 Munro was also jailed for five years and six months for drug trafficking.