Ex-Gordonstoun pupil Paul Macklin loses gun chase appeal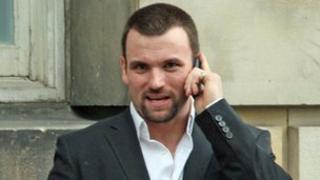 A former pupil of a top Scottish independent school has failed to overturn his conviction for threatening police with a pistol during a chase.
In September 2003, Paul Macklin was found guilty of possessing a handgun in Aberdeen and pointing it at two police officers.
The 40-year-old was jailed for 15 years, later reduced to 10 years.
Macklin always claimed innocence but judges have ruled there had been no miscarriage of justice.
He had been on bail pending the outcome of the appeal but was sent back to prison to complete his sentence.
The former Gordonstoun pupil was said to have turned to a life of crime because he was an "adrenalin junkie" who needed kicks.
City chase
In 1994 he and another man, Robert Cadiz, were convicted of planning a £300,000 armed raid in Aberdeen.
Then on 11 May 2003 police in the city were called to an incident where a man had been stabbed.
As they pushed their way into a flat they heard "scuffling", suggesting people were escaping through a back window.
Officers rushed to the back green and saw a man they said was Macklin who refused to stop when challenged.
The initial trial had heard that two of the officers had chased Macklin on foot and as they gained on him he turned and pointed a silver pistol at them.
The chase continued until Macklin dodged down a side street, out of sight and police heard the sound of a car driving away.
Police material
Macklin was later found to have checked into an Aberdeen hotel under a false name.
The chase was seen by children playing in the area and by witnesses who told the trial that Macklin was not the man they had seen, but the jury preferred the evidence of the police.
In a long-running appeal he claimed police did not hand over material which his defence team could have used at his trial to counter allegations that he was the gunman.
Police were also accused of failing to hand over statements casting doubt on other eye-witness claims that the man they saw was Macklin.
At the Court of Criminal Appeal in Edinburgh, Lord Mackay of Drumadoon, sitting with Lord Hodge and Lord Wheatley dismissed the appeal.