Survivor tells of Super Puma crash ahead of CAA Norway talks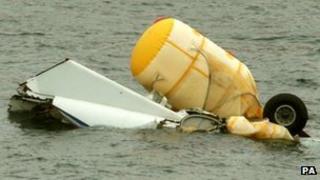 A survivor of the Super Puma crash off Shetland has told how the helicopter hit the water seconds after a "hell of a noise".
James Nugent said August's crash - which left four people dead - had left him with mental scars.
It comes as a leading official from the Civil Aviation Authority (CAA) said he is due to meet counterparts in Norway in the coming days.
The aims is to see if lessons can be learned on helicopter safety.
Investigations into the CHC-operated Super Puma AS332 L2 crash off Shetland, and offshore helicopters operations, are ongoing.
The crash was the fifth accident in four years, two of which caused deaths.
Mr Nugent told BBC Scotland: "There was a hell of a noise and twisting in the fuselage.
"We realised there was something really wrong with the helicopter.
"About four seconds later we were hitting the surface of the water hard. Water was rushing into the fuselage. We had crashed."
He said he managed to escape after trying to help colleagues, but was now struggling to go near helicopters.
The CAA's Mark Swan said of the forthcoming talks: "We will be looking at best practice procedures with the Norwegians."
Sarah Darnley, 45, of Elgin; Gary McCrossan, 59, from Inverness; Duncan Munro, 46, from Bishop Auckland; and George Allison, 57, from Winchester, lost their lives in the Shetland incident.
There have been no deaths involving helicopters serving the Norwegian oil and gas sector since 1997.