Former senior police officer Ian Paterson guilty of sexual assaults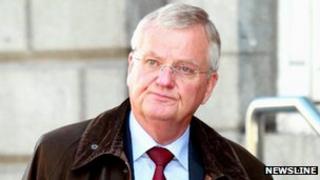 A former senior police officer has been found guilty of sexual assaults on three women.
Ian Paterson, 62, of Tarves, denied eight charges involving women when he was chief executive of Aberdeen Council of Voluntary Organisations, after retiring as a chief superintendent.
He was found guilty of three charges after a six-day trial. Sentence was deferred.
The court heard he made inappropriate remarks to the women and touched them.
Fiscal depute Anne MacDonald had told the jury at Aberdeen Sheriff Court that Paterson abused his power to "manipulate" women.
David Moggach, defending, had described his client as a "tactile" person.
The court heard that the incidents took place on different occasions between July 2011 and October last year.
Paterson had been Grampian Police's longest serving officer when he left after working with the force for more than 40 years.
He went on trial facing nine charges of indecent and sexual assaults against seven women.
He denied the offences, but was suspended by the charity and has since quit.
The women he assaulted described incidents where he had left them feeling uncomfortable after touching them inappropriately.
The depute fiscal said: "The accused is simply a sexual predator.
"He used his power in his capacity as chief executive to manipulate and control and abuse these ladies physically.
"Power can be used for good or power can corrupt and this man corrupted himself with the power over these ladies.
"One of them said, 'Who could we turn to, we didn't know what to do. Would I be believed?'"
The jury took four hours to convict Paterson of three sexual assaults by a majority verdict.
Made remarks
He was found guilty of putting his arms around two of the woman and touching their bottoms in city centre offices.
He also rubbed his clothed body against one of the two women and attempted to touch her breasts between July and October last year.
The third victim told the court he had touched her on the leg and arm while she was in his car on the way to Edinburgh on 29 August 2012.
She also felt uncomfortable when he made remarks about a topless woman and complained to her husband about him when she got home.
During the trial, Paterson was described as a man who was dedicated to his job at the charity and was said to have been a father-like figure to many of the women he came into contact with.
The role of the charity, which is based at Greyfriars House, is to give advice to other voluntary organisations and the office was open to members of the public.
Paterson had worked there for three years and was suspended from his role as soon as the allegations emerged.
But he claimed while giving evidence that he had only touched women in order to comfort them when they were upset.
He quit the job as investigations were being carried out and is currently not working.
Sentence was deferred until next month for background reports.