Mother praises Aberdeen Maternity Hospital 'angels' after critical report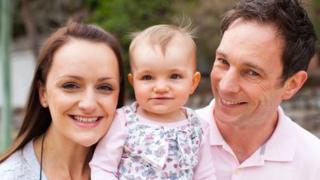 A mother who had her first baby at Aberdeen Maternity Hospital has praised its "professional" service in the wake of a critical report.
The facility was so dirty that inspectors raised concerns with the Scottish government, it was revealed earlier this week.
Charlie and Rob Aitken had daughter Fairlight at Aberdeen Maternity Hospital almost two years ago.
Mrs Aitken spoke of her support after reading the coverage.
During an inspection, representatives of the Healthcare Environment Inspectorate (HEI) had found blood on mattresses, bed rails and bed controls, contaminated incubators and cots, and rusty scrubbing-up sinks.
The problems remained on two follow-up inspections.
Mrs Aitken, a presentation training consultant, and her account husband used to live in Australia but came back to Scotland to start their family.
The 32-year-old, from Newtonhill, told the BBC Scotland news website: "Aberdeen Maternity Hospital has had a negative reputation over the past few years.
"I must admit that I very nearly decided to stay in Australia to have a baby with access to a private hospital - but I am so glad now that I didn't.
"My experiences at Aberdeen Maternity Hospital were extremely positive."
She explained: "As a first time mother I thought I would be 'kicked out' of the hospital six hours after having given birth.
"However I was not rushed out the door, and in fact I stayed in for three days until both me and my baby were well enough and confident to cope on our own at home.
"The staff were angels, caring, kind and unequivocally knowledgeable and professional. And I found it very clean."
'Safe place'
Mrs Aitken added: "I fear that anyone reading this (critical report) article who is expecting a baby in Aberdeen will be terrified.
"That's not fair on all the prospective parents out there, and the staff who work tirelessly.
"While the facility may be old, and in dire need of an upgrade, the staff are amazing.
"It is still a safe place to have a baby.
"Thankfully I know I don't need to worry about how I will be treated in hospital if we decide to have another."
The Healthcare Environment Inspectorate (HEI) has issued requirements that must be met, and NHS Grampian said all the issues highlighted had been urgently tackled.
It said plans needed to be drawn up for a replacement facility.
Speaking about Mrs Aitken's comment, an NHS Grampian spokesman said: "Ward and other staff work very hard to ensure infection rates in Aberdeen are below the national average for maternity hospitals.
"Over 5,000 babies are born in the hospital every year, and the wards regularly receive praise from grateful mothers and families about the quality of care they provide.
"Staff are very appreciative of the expressions of thanks they receive."