Italian WW2 PoW Gino Caprara returns to Orkney to express thanks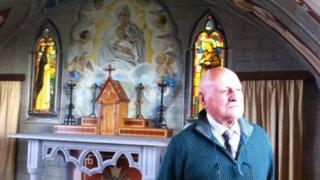 A former Italian prisoner of war has returned to Orkney to revisit the place he lived and worked for much of WW2.
Gino Caprara, 93, made the pilgrimage both to see Orkney again and to express his thanks to local people for the kindness shown to him and his fellow prisoners.
He first arrived in 1942 and left in 1945.
Mr Caprara worked as part of the staff of the PoW camp during the building of the famous Italian Chapel.
He told BBC Scotland: "I am very thankful for the kindness during the war.
"I wanted to come again before it was too late, because I am 93."
Hundreds of Italian soldiers captured on the battlefields of northern Africa were brought to the islands to provide labour.
One of the most poignant stories to come out of Scotland's involvement in the war, the building - known as the 'Miracle of Camp 60' - was built on the island of Lamb Holm.
The Italian Chapel was created by the prisoners from two small huts.
The artistic PoW Domenico Chiocchetti brought together a team of prisoners with the skills needed.
The chapel has a special place in the heart of Orcadians and in 1958 a preservation committee was formed to care for it.