North Ronaldsay nurse practitioner Bernie Holbrook in running for award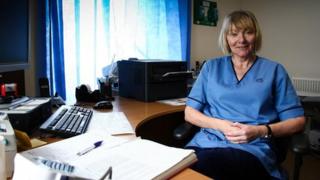 A nurse practitioner working in one of Orkney's smallest island communities will find if she has won a major national award this week.
Bernie Holbrook has been providing health care for about 70 people in North Ronaldsay for the past three years.
Her role means dealing with aches and pains to life-threatening emergencies.
She has been shortlisted for the Nurse of the Year title at the UK-wide 2013 General Practice awards.
She said: "As a nurse practitioner in a remote island setting, my job is to provide primary health care, unscheduled out of hours care, and community care to the island population, which has no resident GP."
Her previous post was at a busy hospital in Essex.
The award recognises the work done by the finalists in improving access to care for patients.
The General Practice Awards take place in London on Wednesday.